Sweaters are among the most profitable CountryLife products. You need a Weaver to produce them from Angora Hair or wool.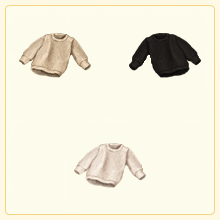 Made from Angora Hair produced by an Angora Rabbit when you feed it carrots.
Made from Black Wool produced by a Welsh Sheep when you feed it with wheat
Made from wool produced by a Merino Sheep when you feed it wheat.
This article is a stub. You can help by adding to it.

Stubs are articles that writers have begun work on, but are not yet complete enough to be considered finished articles.