Introduction pop-up
Edit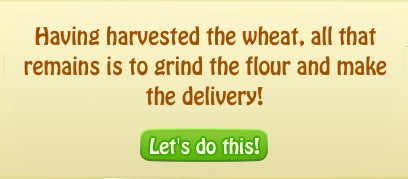 Icon
Quest content
Help content
Grind 8 sacks of Flour
Click the Dutch Mill to add wheat and wait for the flour to be ready. Then click the flour sacks to collect.
Sell 8 sacks of Flour from the barn
Click the barn icon in the lower right corner and sell the wheat. You can select how many to sell using the arrows next to the quantity.
The tip tells to sell wheat but it's an error: you must sell the flour to valid the mission.